Discussion Starter
·
#1
·
Hey everyone,
Thanks for all the welcome messages and support since joining. I thought I would write a bit about the belt temperature gauge I've built for UTVs. A little history about the gauge and how it came to be. I was relatively new to the UTV scene, and about a year ago my friends really started getting into them. They had bought the Mavericks and had been complaining about the clutching and blown up belts. I had just finished my degree and hadn't touched a sled or UTV for 5 years pretty much, so I was definitely out of the loop. They were working on a clutch setup swapping out weights and springs, and I was thinking there has to be a better way then this trial and error setup. It occurred to me that if you could monitor the actual belt temperature, It would give you a better idea if your new clutch setup was causing some slipping through the rpm range, generating more heat. Without getting too much into it, I google what was out there... surprised to only find the clutch air temperature setups. This is ok info, but with all the blower kits being installed, and Polaris and Can-Am making better exhaust setups, it really only gives you info at the extreme. If the air temp is hot, you know you're belt is cooking. But by the time your belt heats up all that air, and the air heats up your sensor and gives you a reading, the damage is done.
So I built a gauge that uses infrared to monitor the belt temp. The readings are instant and the profile is much lower. You mount it right above the belt. If a belt does go out, it won't break a sensor. If it does, warranty covers it. But we've blown a lot of belts and never had an issue yet. Monitoring infrared is perfect because these black belts throw out so much infrared energy.
The main ingredient in these belts is obviously rubber. Depends on who you talk to, but the research all agrees that belt temperatures over 220 F will result in a thermal degradation of the rubber. Some even say 180 F. When it gets over that temperature, the rubber will start to stiffen as the properties are changed. You've probably noticed the cracks in a belt with a lot of miles. (I don't mean to insult anyones intelligence, there are probably a lot of people on here that know more about belts then me) The stiffer belt won't pull as easy over the clutches, and it will generate more heat. This excess heat cooks the belt more, and you can see that it will naturally just start to snowball. Eventually it will generate so much heat, it will start to delaminate. When this happens, the belt will start to slip somewhere and stretch. This is where things really get roasting and this is where it blows apart with all 100+ hp behind it, punching holes in covers, bending cranks, and wrecking clutches.
You might - hopefully not - see this on the Belt Temp Gauge. Right before they come apart, the temps jump 100+ degrees. They can cool down really fast too though depending on some conditions, so you do have to keep an eye on it. But that is one way you can tell your belt is wore out, by how fast the temperature rises when you throttle down.
You probably know of some guy who drives 20 mph down a gravel road all day and gets some ridiculous mileage out of his belts. This kind of riding doesn't generate a lot of belt temperature, so it keeps the life up. But if you are pulling hard through the whoops, or hitting mud puddles at full throttle, or trying to break through snow drifts on the trail in the early spring, you will be generating a ton of belt heat extremely quickly. As those clutches struggle to shift through the sudden changes in speed, you get slipping and stretching in that belt and things heat up a ton.
So my gauge will let you know when you are running in the danger zone and shortening your belt life. It flashes a mild flash at 250 F and an extreme flash at 265 F. It'll get your attention. Honestly, every machine is different where the average belt temperature is in "normal" riding conditions. A RZR 800 we test with with heavier weights and different springs runs super hot all the time at 230-250 F. The 2014 stock Maverick we test with runs about 190 riding around on the gravel roads wide open. And a 2015 RZR 1000 XP runs about 190 as well.
The kicker and what surprised us, is that the best indicator of hour belt is doing, is the average temperature through your ride. Everything we've tested to failure, failed within 20 miles after the average temperature had risen 40-50 degrees.
After 400 miles, the RZR 800 was running on average, about 280. 10 miles later, the temperature started skyrocketing into the 300's. You wouldn't have known riding though. It still pulled hard, and you couldn't smell belt. The guy behind us could smell the belt and about a mile later it exploded. We put a new belt on, and the temperature dropped back down to 225 on average.
Heres one graph of some data I got on a half mile pull.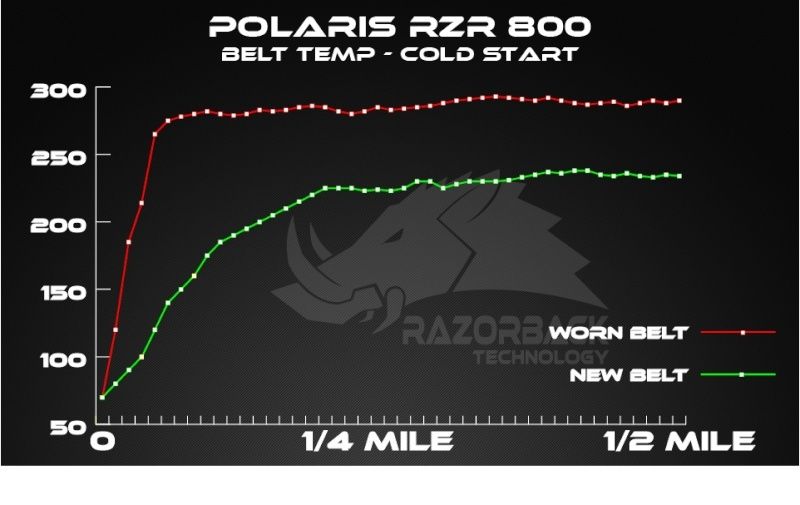 With the RZR 1000, it was similar. Average belt temp was 185-190. Near the end of a 100 mile ride we noticed the average temp was 235. 5 miles later, the temperature shoots up over 300 and the belt explodes.
So while its important to know when you are cooking it so you dont have an instantaneous failure, it's also really nice to know how you are doing on belt life. Something that hasn't been done before in this way. If you've got 20 miles back to the truck, and your average is up over 40 degrees, then you should think about your options. If you have an extra belt, change it now before it blows up and wrecks something (saving you money). Or if you don't have a belt, or don't know how to change one, you better slow down and baby it for the next little while or you're not going to make it back. Keep on eye on your temp, and the gauge will take care of you.
Another good thing about knowing your exact belt temp at any given time is that it helps diagnose clutching issues. Maybe you have a flat spot on a roller and its causing it slip from not shifting correctly. This will generate heat. Maybe the new weights/spring setup you got is way out of spec. Maybe those new tires and rims really are causing more wear on your belt then you thought. With that new knowledge you can reclutch it, save some belt life and run cooler temps. Cooler belts are more efficient and nice flexible ones will deliver power much better.
Here's some more pics off a Maverick install, and a RZR install. And one of many holes on the RZR 800 clutch cover. Yes I know the boot on the duct is a POS, thanks for noticing. haha.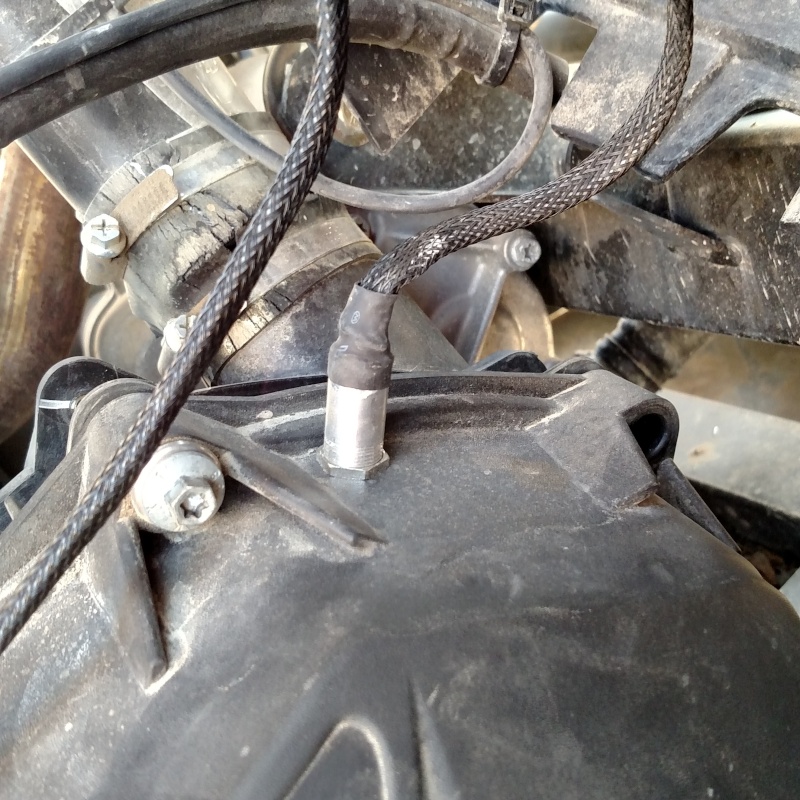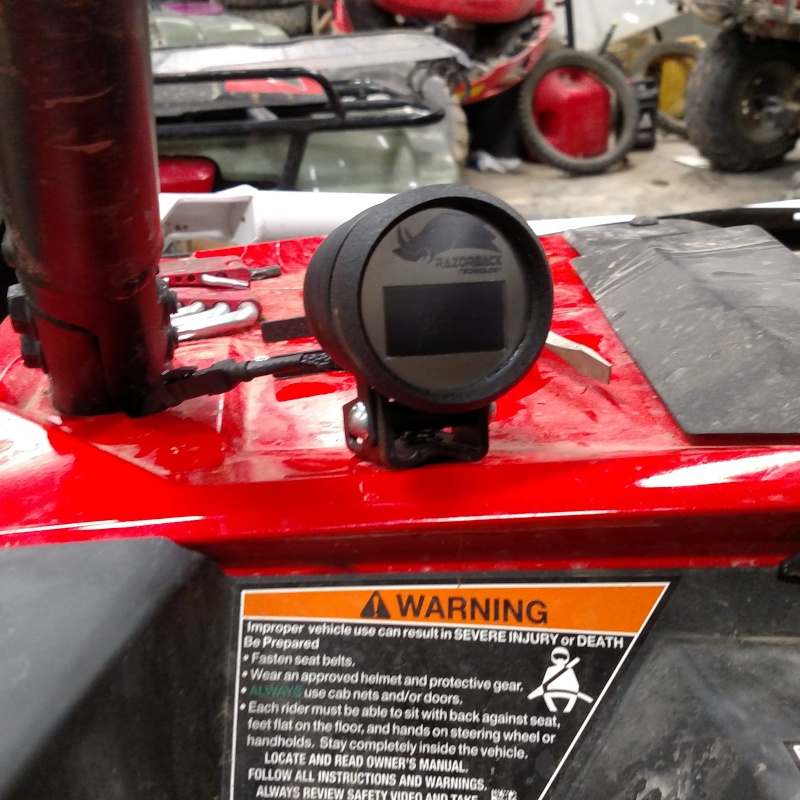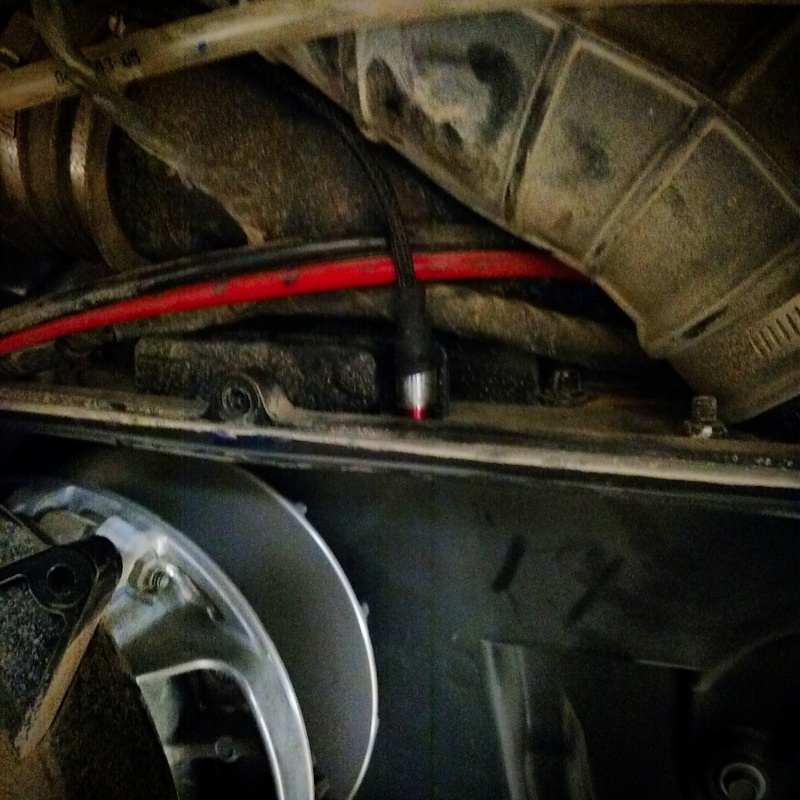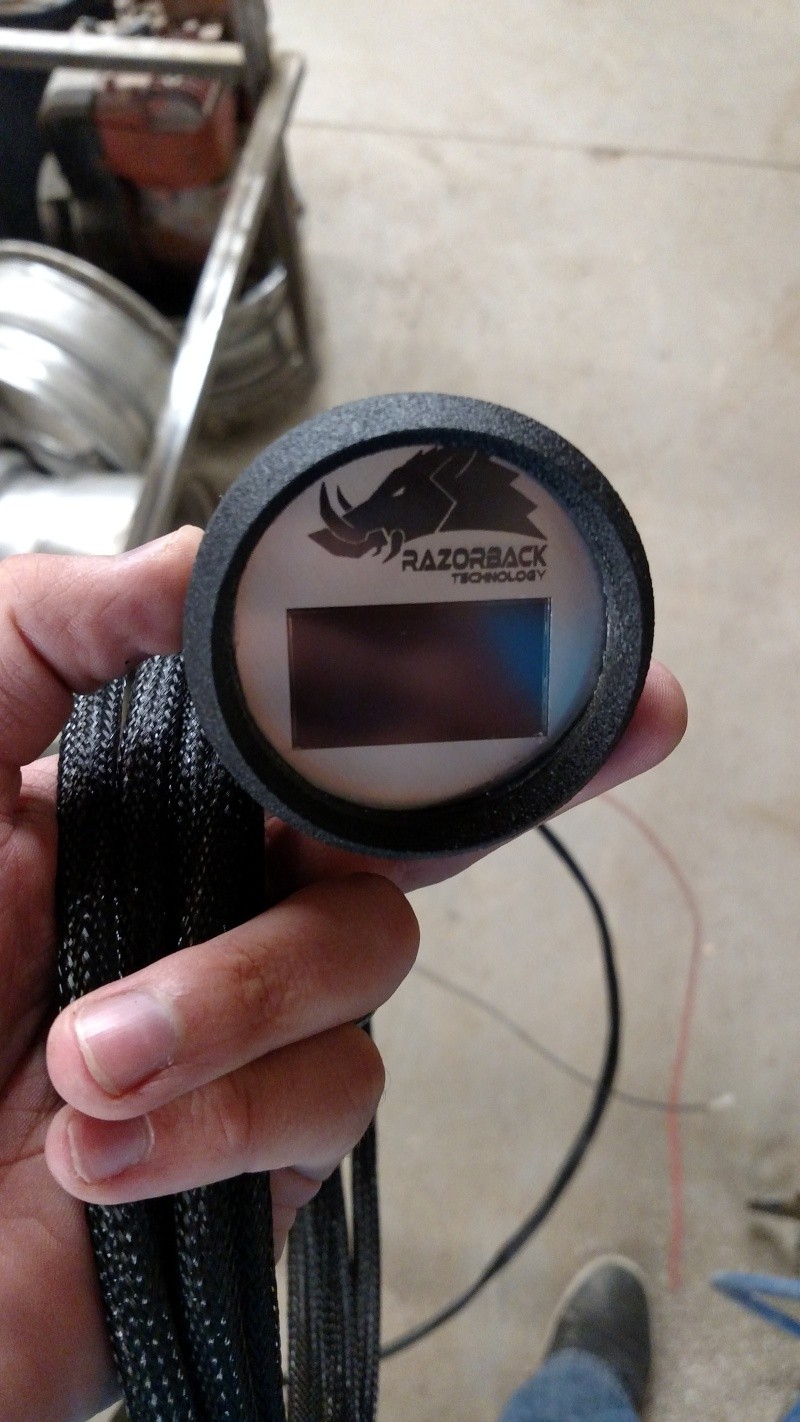 This picture shows how low of a profile it has on the inside of your clutch cover. This means if a belt ever breaks, it's not going to take out your sensor. I've also recessed the Infrared sensor back about 1/4 inch into his housing to also prevent anything breaking it if something fails inside your cover.
Anyway, hopefully that's enough info for you to decide if a gauge like this is something you need on your UTV. I'm biased because I build the things, but I think the data you gain access too is awesome. And we are still scratching the surface. I'll be making a better section on the Razorback Technology section and website for people to post belt data, like failure time, average belt mileage life with average temp... all that good stuff. Should make tuning your setup that much easier.
The gauges have a 3 year warranty. I handle all warranty claims, I've had one claim so far but I'll treat you right every time. The infrared sensor is waterproof. I've had one sitting in a water bottle on my desk for a long time. Still working. The gauge display is water resistant. I've pressure washed mine without any issues, but it is possible for water to leak through the rubber seal that the wires come out of at the back. Never had an issue in snow, rain, mud or sand... but i'm guessing that if you bury your UTV in the river, don't expect the pod to survive. It might though. The sensor is going to be just fine though
The gauge is made with a scratch resistant anti-glare screen cover, brushed stainless faceplate, steel bezel and an aluminum cup. All made right here in Idaho. I solder every circuit board and the only piece of chinese material on it, is the OLED display. Everything else is engineered, machined, soldered and assembled here.
Message me with any questions or give me call or text. 801-472-9689
I've been getting lots of calls, but just leave me a message or text me to give you a call and i'll get back to you.
Here's a link to a short pull on a Maverick after I did an install a couple months ago. You can see how fast it heats up when you are on the throttle.
https://www.facebook.com/razorbackt...6341122729900/945469265483752/?type=2&theater
Thanks!
-Jorden
RazorbackUSA.com