Discussion Starter
•
#1
•
Well after reading the thread on plasti dip paint I decided to start a new project and change up the color on my commander to matte black. For those who didn't see the first thread by Stiffler, this stuff goes on like regular spray paint but can easily be removed like a vinyl sticker. This way I can remove it if I don't like it and go back to my original color. So here is my project and review.Thanks Stiffler for the original idea.
Here is what my bike looked like before the paint.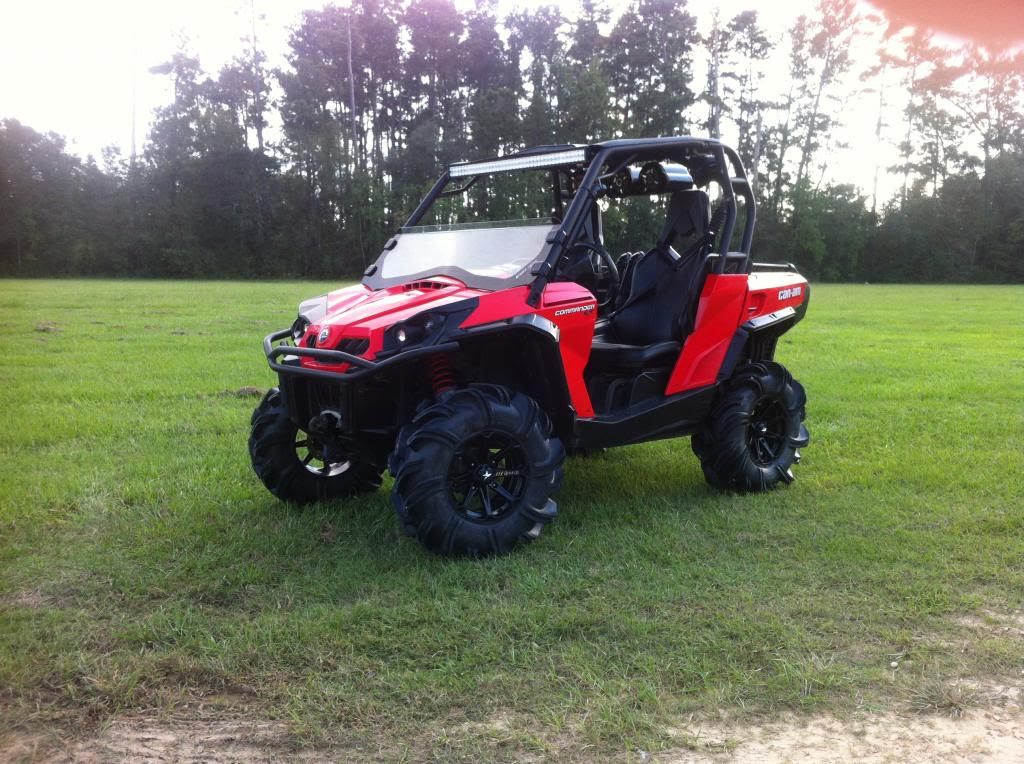 I started by getting two cans of this just to play around with. I also got a sprayer for the rattle cans. Best $6.00 ever.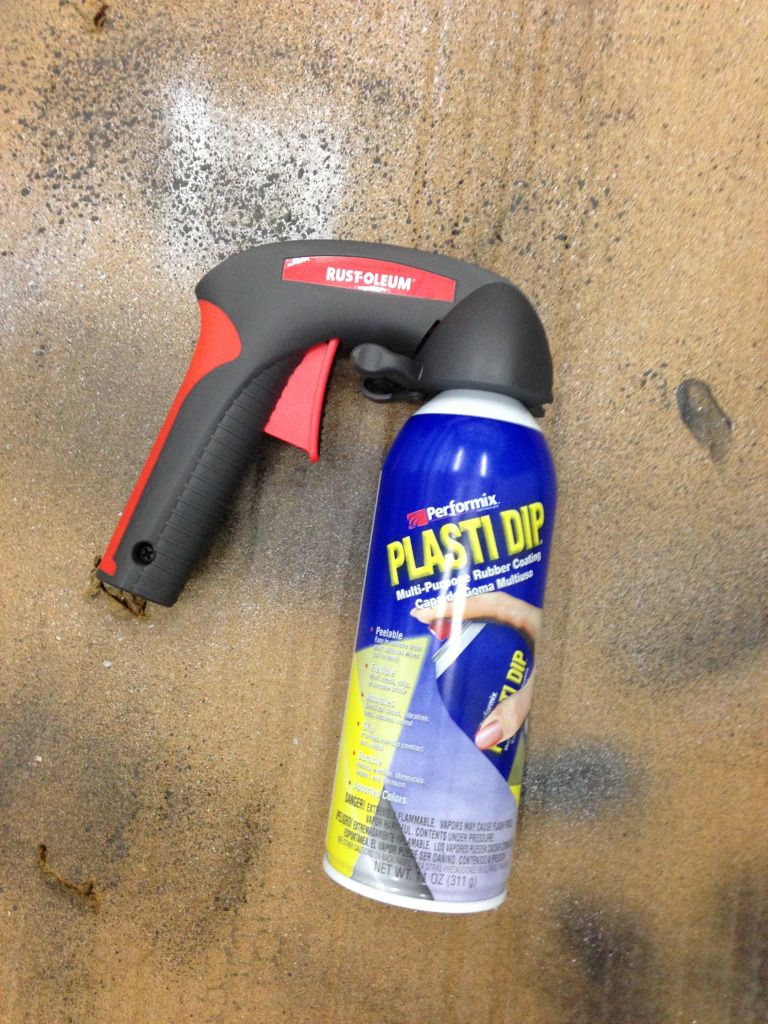 I started on the easily removable parts and cleaned them up real good with degreaser then isopropyl alcohol.
Next I layed a light base layer, and I let it dry for about 15 minutes. While that dried I prepped the side bed panels.
After the first coat I layed about 4-5 more coats until the red didn't show through anymore. I did find the texture to be really rough. Almost like sandpaper. I later realized the first two cans I got were probably bad and didn't lay well. Here is what the hood piece looked like with the bad cans.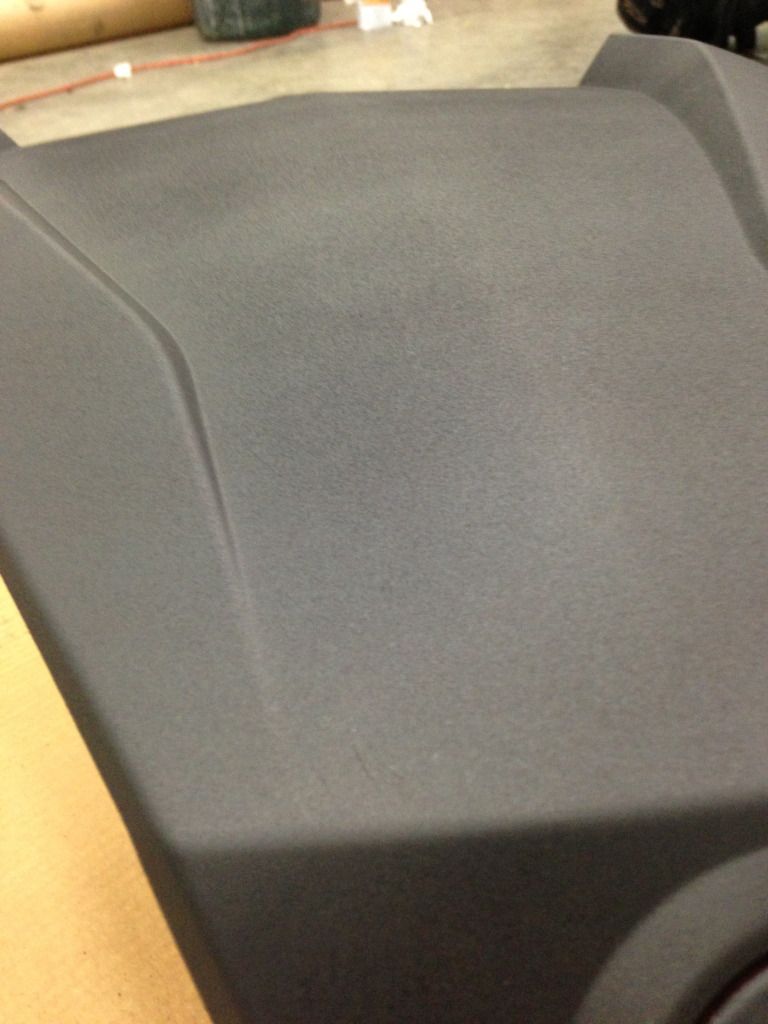 The good thing about this stuff is you can just pull it off like a vinyl sticker and it leaves no residue behind. So I just peeled it off and went to get more paint from Lowe's. This new paint layed down way better. The first cans layed down pretty dry and matte looking, but the new cans layed down wet and glossy looking (which is what you want). So I went and finished the bed panels and the hood panel.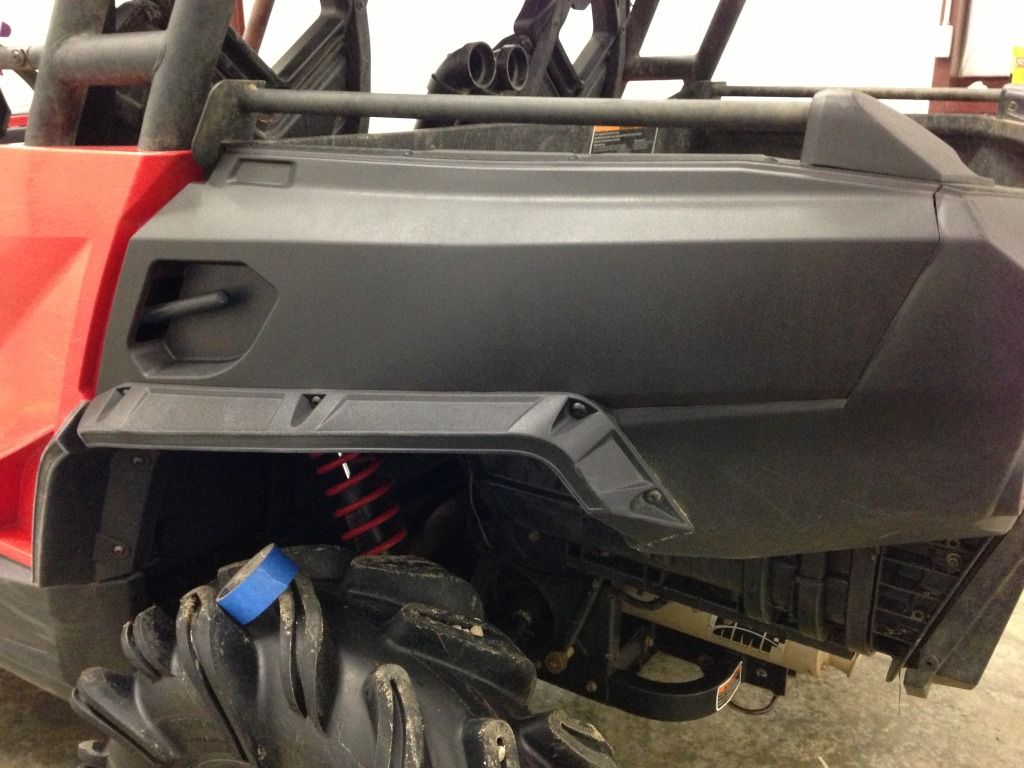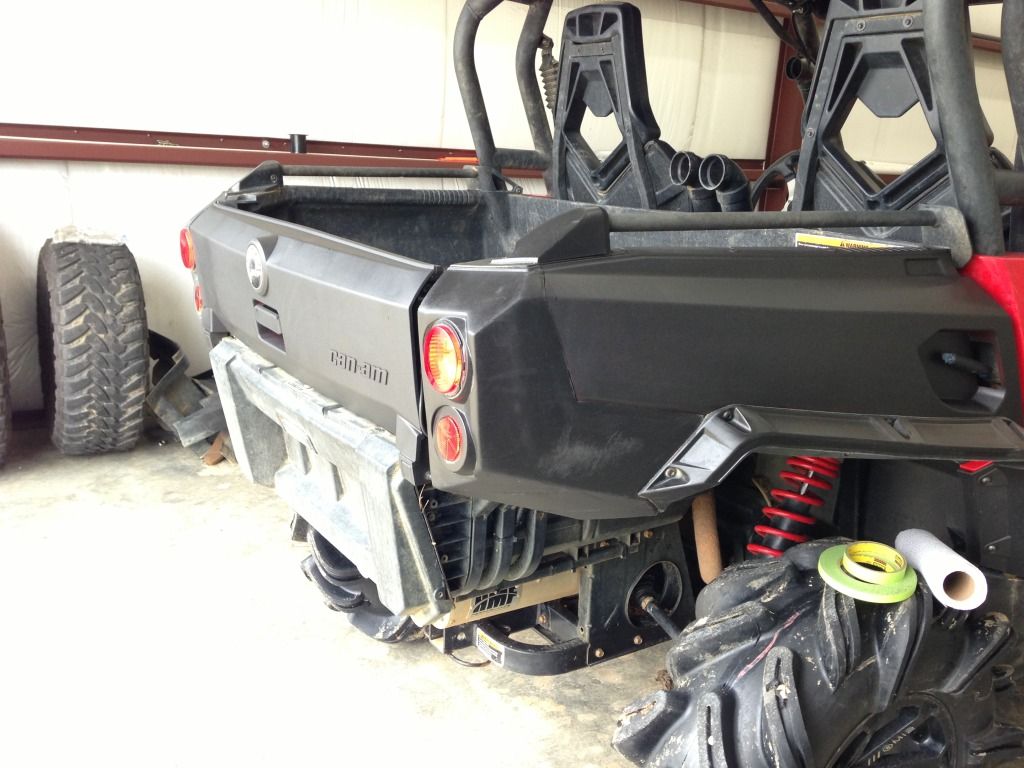 After finishing the bed I moved on the the side panels. I do recommend taping everything off with painters tape. The overspray can be removed pretty easily but taping it off was quicker and easier. If you do get overspray you can just pull it off or remove it with some xylene. Here is a video of how I pulled it off from the front medallion.
Here are the side panels. I did these the same way. Just a good coverage base coat followed by thicker and thicker coats. Also you want to lay it down with the can about 4-5 inches from the plastic. I sprayed overlapping 2-3 inches and moving slow but steady.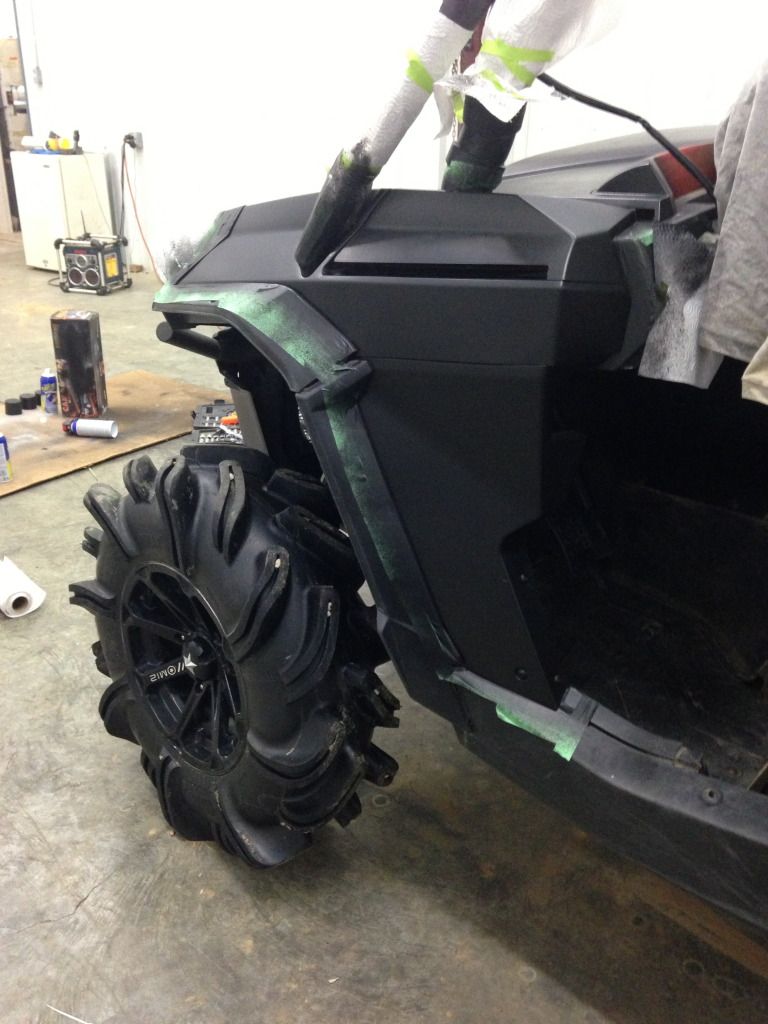 Here you can see how it looks wet and glossy when it is applied. Don't mind my ******* masking tape paper towels. I started to get low on tape and it was too late to go to the store.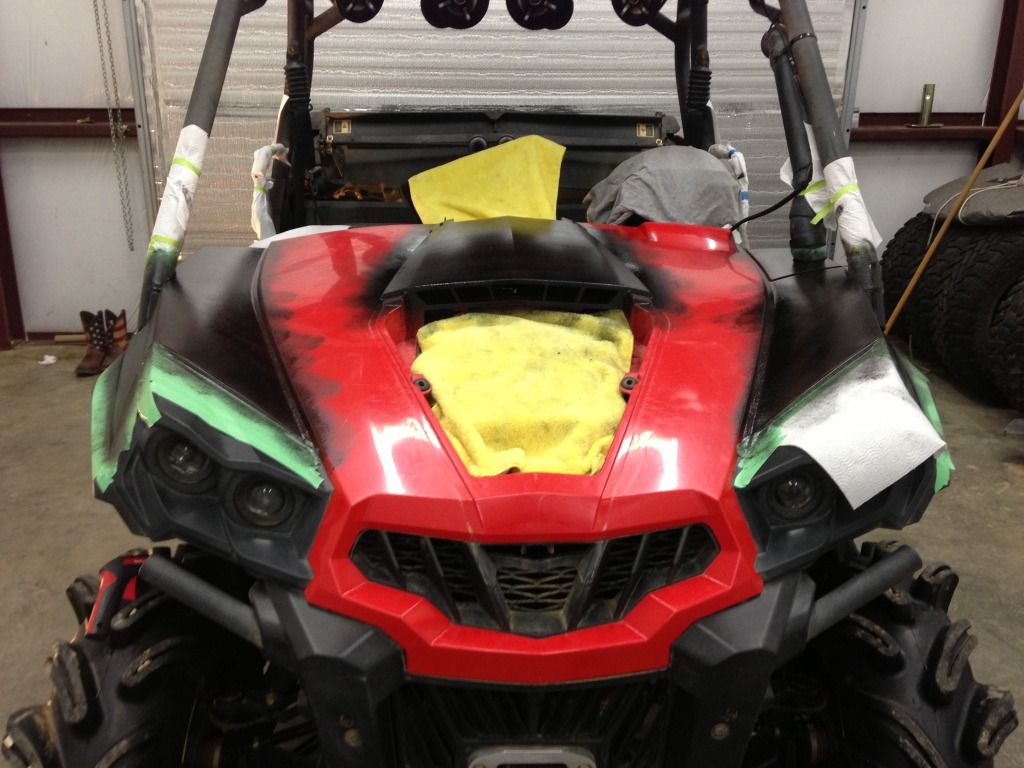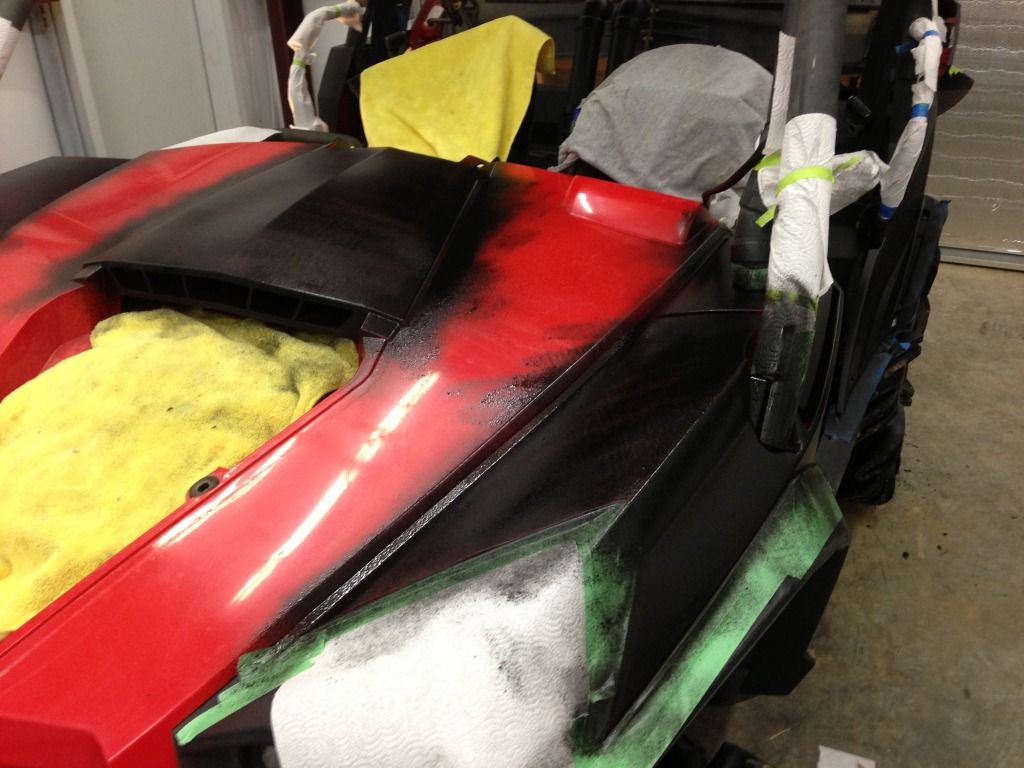 I would also recommend taking it outside in the sunshine before you finish to make sure you didn't miss any spots. My lighting was good in my shop but I still missed a few spots that I could only see outside in the sunlight.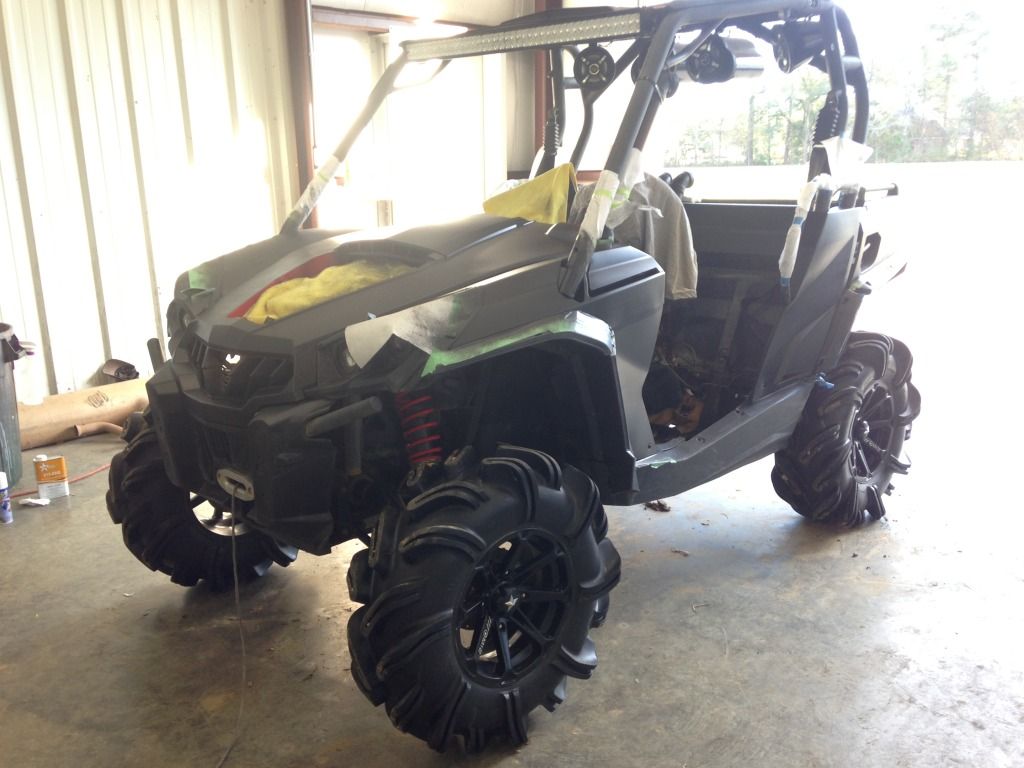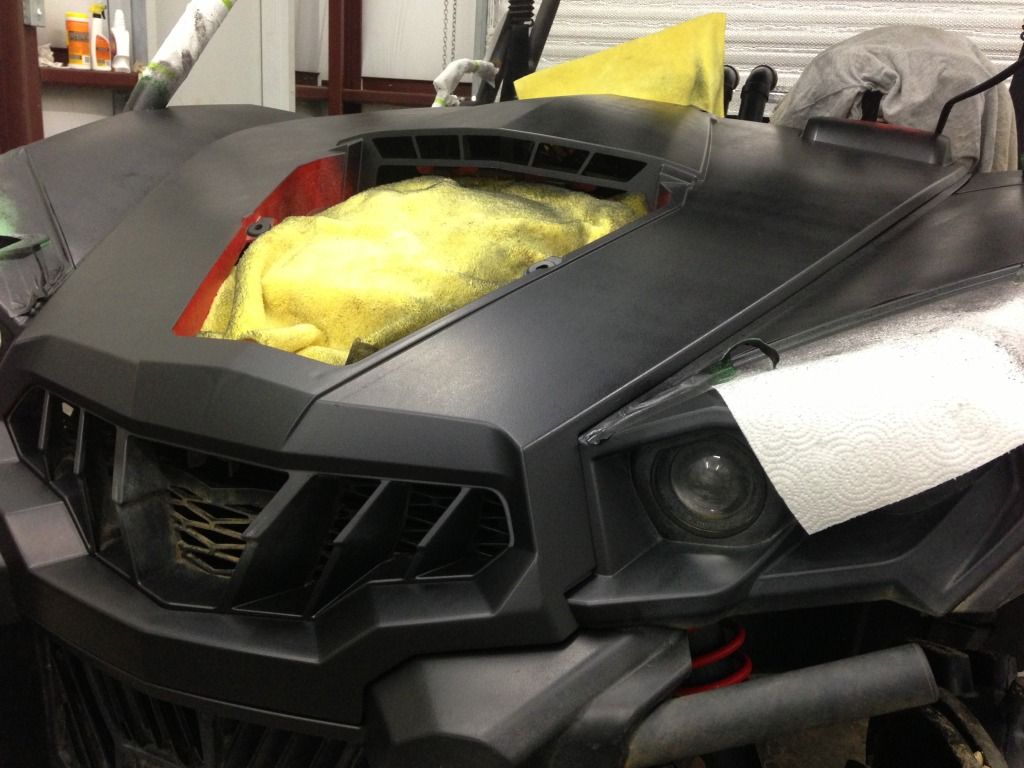 This is the completed job. It took me about six cans not including the first two cans that were bad.
I waited to write this review until I was able to get out and test the stuff to see how it would hold up. I didn't have too much confidence in it at first, but I was pretty impressed with it after a ride this weekend. I went through some tight trails with some tree scratches and nothing peeled off. I also took it through some good mud holes with no signs of peeling either. I am pretty impressed with it. Especially for the cost of the stuff. Its pretty cheap and easy to do for what outcome you get. I wouldn't expect it to hold up like paint in the long run, but it's good enough for me. I can take it off if I ever want to go back to red, or just touch up bad spots. All in all I would say this stuff is pretty awesome.